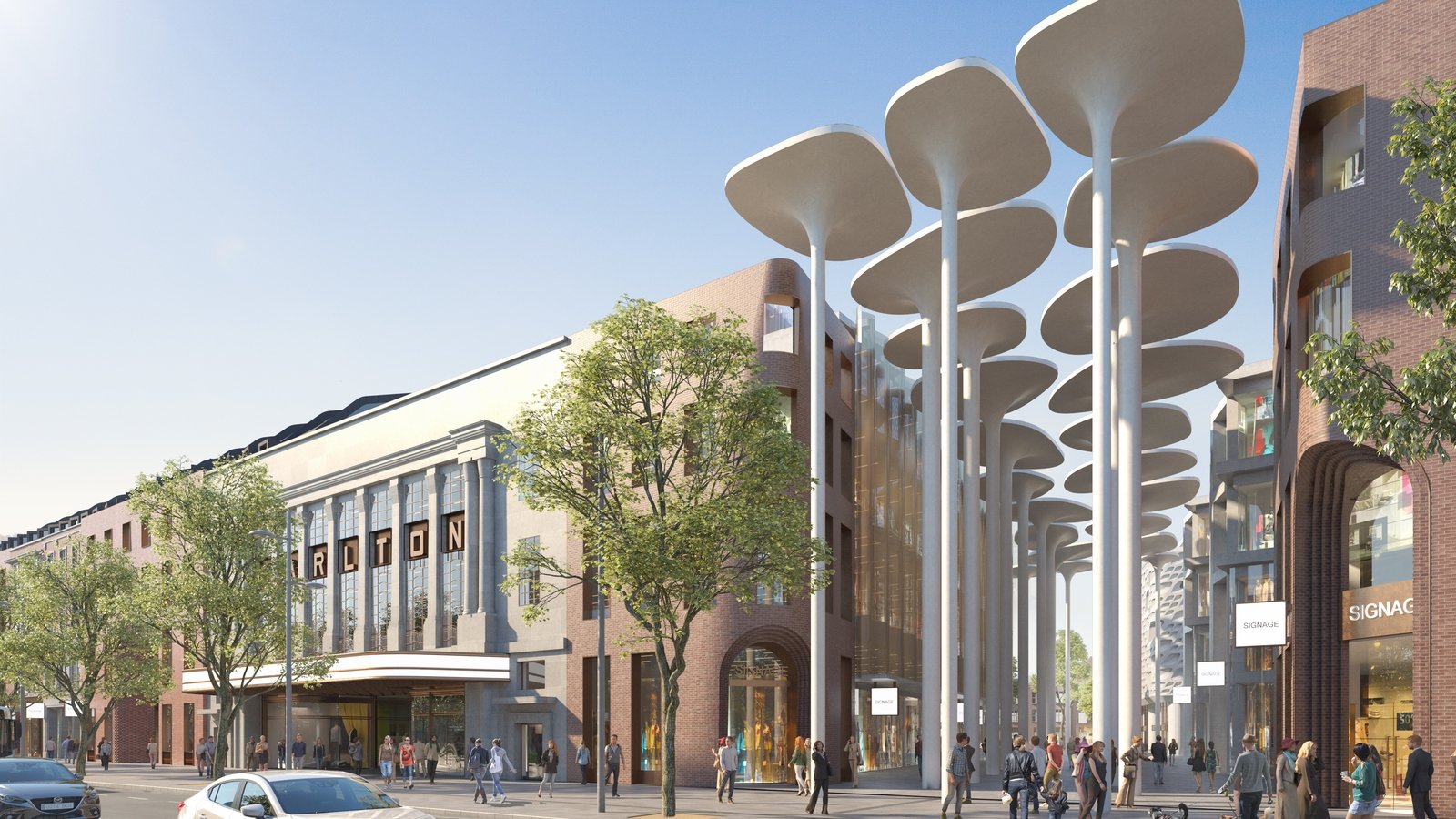 Hammerson submits plans for regeneration of Dublin site
Hammerson detailed his proposals for the regeneration of a "significant" site in North Dublin city center to include a fully integrated Metrolink station for O'Connell Street.
The "Dublin Central" master plan proposals include two new public squares, new pedestrian routes and the restoration of historically important lanes.
It also ensures that the area around numbers 14 through 17 on Moore Street, a national monument due to its role in the Easter Uprising, is properly restored as part of the project.
The wider Dublin Central Master Plan area, with almost 200m frontage on O'Connell Street Upper, is bounded by Parnell Street to the north, Moore Street to the west and Henry Street to the south.
Three of the six planning requests for the proposed mixed-use development have been submitted to Dublin City Council today, with more to follow in the coming months.
"We are delighted to submit planning requests today," Ed Dobbs, director of development at Hammerson, told Morning Ireland. "This is a 5.5 acre site located in Dublin 1. There is a building permit for over a million square feet of retail space for a shopping center which was granted in 2009. We offer a vision completely new for a mixed-use project that includes 94 residential units, 210 hotel beds, 44,000 m² of offices, 8,000 m² of food and cultural shops.
We need your consent to load this rte-player contentWe use rte-player to manage additional content that may place cookies on your device and collect data about your activity. Please review their details and accept them to load the content.Manage preferences
These initial applications include land on the west side of the site and include residential, hotel, commercial, food and beverage, and cultural uses.
If successful, work on one of the city's largest regeneration sites could begin as early as next year.
Moore Street National Monument is state property, and plans are pending for its regeneration and restoration as a memorial center.
Mr Dobbs said it was a focal point of Hammerson's master plan. "We are delivering a new public square to the north of the national monument and we are restoring the historic streets and alleys of the site itself.
"We will retain a good degree of 1916 fabric at the site, while introducing new street connections from O'Connell St to Moore St and the National Monument, which will help boost Moore St footfall and increase profile. of the National Monument. "
The street is also home to Moore Street merchants who will no longer be able to function when construction begins. Hammerson supports an advisory group recommendation that the last remaining traders should be compensated.
Mr Dobbs said the company expects Dublin City Council to come up with compensation proposals and "we look forward to progress in this regard".
He said traders are at the heart of the program. "There will be over 2,200 office workers on site, so we think the future is bright for the Moore Street market."
The overall Dublin Central system accounts for around 20% of retail sales, which is significantly lower than what was offered under the existing authorization. "We think that's about right. It's a great retail location – high footfall, downtown location.
"We are offering a project with an iconic design, which will be authentic and create a real sense of place, but we also believe that it is ideal for offices. It'll be on a future Metrolink, it's probably the most connected area in town with 31 bus lines crossing O'Connell Street and the Luas, both lines, so it's the right combination for us. "
Hammerson predicted that the regeneration project will create a total of 8,600 jobs – including onsite, local and supply chain jobs, while also supporting 50 skilled apprenticeships.
The program will see 366 full-time employees in retail when it launches, approximately 85% of which will be local jobs. It is also expected that up to 2,200 office jobs will be created once all new offices are fully leased.
Hammerson predicts that the new development will generate 8 million euros in business rates per year.
Ed Dobbs, Director of Development at Hammerson, said Dublin Central will regenerate this important part of Dublin, breathing new life and dynamism into a unique region with an important history.
"Our priority has been to preserve and celebrate the heritage of the site while presenting an appropriate proposal that seeks to enhance its history and tell its story. We are passionate about reestablishing the site as the focal point of Dublin life for the people of our capital. "said Mr. Dobbs.
"The creation of this new flagship destination will also bring significant economic benefits, jobs and local spinoffs, creating safe and high quality public spaces where people and brands want to be," he added. .
Taoiseach Micheál Martin said the plans will improve the status of O'Connell Street by developing new transport links and delivering new homes, retail businesses and offices that will boost employment in the area.
"The locations around Moore Street and the GPO will see an increasing number of visitors who will be drawn to the defining role it has played in our history," he added.