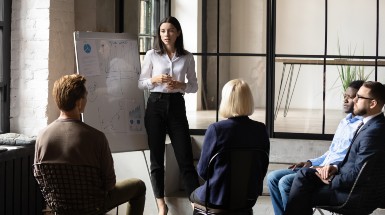 NICE and PHE Recommend All Employers Provide Mental Health Training to Managers | News and Features | New
Reducing stigma and equipping managers with the skills to have conversations with employees about mental health is likely to facilitate conversations that address concerns about their mental well-being, the directive says.
NICE and Public Health England's Guideline on Mental Well-being at Work explains how to create the right conditions to support mental well-being at work through an environment and culture of participation, equality, safety and support. fairness in the workplace based on open communication.
The independent policy committee, made up of mental health experts, employers, NHS professionals, members of local authorities and lay members, has recommended that employers consider including:
how to have a conversation about mental wellness with an employee
mental well-being information
how to identify the warning signs of poor mental well-being
mental wellness resources
awareness of the stigma associated with poor mental well-being
continuous monitoring of mental well-being at work
The directive states that training should equip managers with the knowledge, tools, skills and resources necessary to improve awareness of mental well-being at work. It should also improve employee understanding and engagement in organizational decisions and communication between managers and employees.
Dr Paul Chrisp, director of the NICE Center for Guidelines, said: "Even before the pandemic, the nation's state of mental health has been a topic of conversation at home, in the workplace and in the media.
"Our new directive took into account the issues that were a problem before the emergence of COVID-19 and the new issues that arose as a result of the pandemic.
"Reducing stigma and equipping managers with the skills to have conversations with employees about mental health is likely to facilitate conversations between managers and employees about any concerns regarding their mental well-being. This makes it more likely that managers can support employees with mental health issues.
"More research is needed in this area, but providing managers with the skills to discuss mental well-being improves the manager-employee relationship so they can identify and reduce stressors at work.
"It's a practical step that employers can implement and adopt quickly without a huge investment. "
The committee agreed that it was important that all line managers receive training and support. They felt that this was a good practice in all sectors and all sizes of organization, and that managers benefit in terms of mental well-being from feeling competent to perform their leadership roles.
A Deloitte report, Mental health and employers | Refresh the investment file published in January 2020, estimates that poor employee mental health costs UK employers between £ 42 billion and £ 45 billion each year. This consists of absence costs of around £ 7bn, presenteeism coming to work despite poor health and underperforming costs ranging from around £ 27bn to £ 29bn and costs turnover of around £ 9 billion. This is an increase of around 6 billion and 16% from our 2017 report figures, mainly due to an increase in presenteeism.