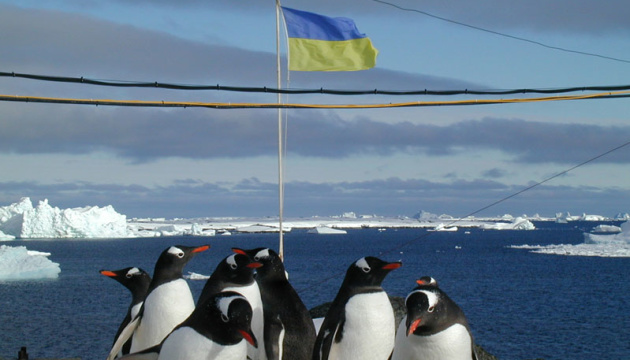 Ukraine joins EU project to establish Antarctic marine reserves
Ukraine has co-initiated the creation of marine protected areas in Antarctica.
This was stated by Deputy Minister of Environment and Natural Resources for European Integration Iryna Stavchuk, who spoke at a high-level virtual meeting chaired by the European Commissioner for environment, maritime policy and fisheries Virginijus Sinkevičius, reports Ukrinform referring to the Ministry.
It is noted that the European Commissioner has convened a meeting with the Member States of the Commission for the Conservation of Antarctic Marine Living Resources to discuss, before the 40th meeting of the Commission, the establishment of marine protected areas in the 'East Antarctica, the Weddell Sea and along Antarctica. Peninsula.
Read also: Thousands of penguins crowd near Ukrainian polar station
"Ukraine fully supports initiatives to establish marine protected areas in East Antarctica, the Weddell Sea and around the Antarctic Peninsula, and joins the effort as a co-initiator of the areas being developed. creation, "Stavchuk said.
The official added that Ukraine is ready to join in organizing and conducting joint expeditionary research in East Antarctica, inviting foreign researchers to join us. From the Antarctic summer 2022-2023, the James Clark Ross research vessel, formerly piloted by the British Antarctic Survey and recently acquired by the National Antarctic Research Center, can be used.
Stavchuk informed that Ukrainian scientists have already drafted a project to create a protected area around the Vernadsky research base in the Argentine islands. It includes marine and terrestrial components and is expected to be part of a larger protected area around the Antarctic Peninsula. It will now serve as a site to monitor rapid changes in the Southern Ocean ecosystem caused by climate change.
Read also: Humpback whales swim to ukrainian antarctic station
According to Commissioner Sinkevičius, at the high-level meeting, the EU reaffirmed its commitment to preserve the rich and vulnerable marine life of the Southern Ocean, as action is needed "more than ever" to change the situation, because biodiversity loss and climate change are affecting invaluable ecosystems at an unprecedented rate.
Many countries around have already recognized this need and co-founded new marine protected areas, while the support of all members of the Commission is required, underlined the official.
According to the Ukrainian Environment Ministry, on April 28, EU Commissioner Sinkevičius held the first meeting of ministers, joined by new members and supporters of the proposal to create marine protected areas in East Antarctica, the Sea of Weddell and along the Antarctic Peninsula. Therefore, in the midst of the current crisis of biodiversity loss and climate change, the EU reiterates its call on all members of the Commission to take decisive action to preserve the ocean's unique and rich biodiversity and ecosystems. Southern.
As Ukrinform reported, in September EU Environment, Oceans and Fisheries Commissioner Virginijus Sinkevičius discussed with Ukrainian Environment and Natural Resources Minister Roman Abramovsky the possibilities of co-sponsor an EU proposal to create two marine protected areas in Antarctica.
I am